Descriptive Essay on Nature
❶All these bones are turning green.
Quality papers at the best prices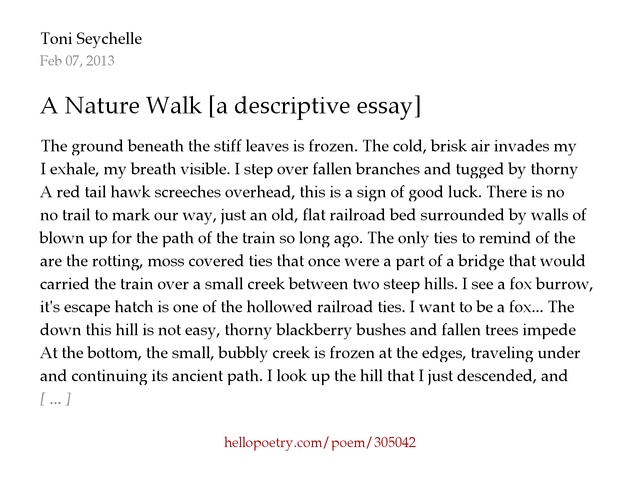 If you're into poetry and people who're into poetry, join the community to remove ads and share your poetry. A Nature Walk [a descriptive essay]. The ground beneath the stiff leaves is frozen. The cold, brisk air invades my lungs, I exhale, my breath visible. I step over fallen branches and tugged by thorny vines. A red tail hawk screeches overhead, this is a sign of good luck. There is no path, no trail to mark our way, just an old, flat railroad bed surrounded by walls of shale, blown up for the path of the train so long ago.
The only ties to remind of the rail are the rotting, moss covered ties that once were a part of a bridge that would have carried the train over a small creek between two steep hills. I see a fox burrow, and it's escape hatch is one of the hollowed railroad ties. I want to be a fox The trek down this hill is not easy, thorny blackberry bushes and fallen trees impede progress.
At the bottom, the small, bubbly creek is frozen at the edges, traveling under rocks and continuing its ancient path. I look up the hill that I just descended, and wonder how the return will go. The next hill will be easier, there are no thorny tangles, just treacherous leaf litter that will give under my feet if I don't find the right footing. The trick is to dig my boots into the ground as if I'm on steps.
These hills are steep. Finally at the top, I look back at this little spring valley, I'm not that high up, but what view. Here, there is a dilapidated tree stand, falling apart from years of neglect and weather. Surrounded by deep leaf litter, there is a patch of rich dark earth, a buck has marked his spot, his round pellets are nearby.
The saplings catch my hair as I walk by, and at these moments I am thankful for this cold snap that took care of the ticks. A creepy feeling takes over me, so thankful for this snap. A few feet further, as I watch where I am walking, another tussled bit of earth and I notice some interesting scat.
It's furry and light grey; I poke it with my stick and find a small skull when I turn a piece over. I continue my walk, I didn't come here to play with poo.
The last time I took this hike was three years ago, on a similar frigid day. It was a lot easier to make it through the shale valleys. Last summer, a wind storm felled trees and took out power for two weeks. The evidence of that derecho is clear here in this untouched forest.
I remembered a tree, which now is a fallen giant, that had lost it's bark. The bark had separated and laid around this tree like a woman's skirt around her ankles. Now the tree lies with it's bark. I pass another tree I recognize whose branch extends out but zig zags up and down, as if it had three elbows. The tree signifies my next move, to descend from the flat railroad bed, down to a creek that flows through the tunnel that would have carried the train.
The creek is considerably larger than the last creek I could step across. Descending towards the creek leads me over moss covered rocks and limbs, still bearing snow.
Outside the tunnel, the hill walls are large stones, covered in a thick layer of moss, some of which has started to fall off due to heaviness. There's a sort of ice shelf in the creek, it's three layers thick and can support my one hundred and twenty pounds. Laying across the creek is another derecho-felled tree.
Some sort of critter has crawled on this, using it to avoid the water below and as a short cut up the hill. His claw marks are covering the the limb, a few are more clear, it looks as if the creature almost slipped off.
His claw marks show a desperate cling. I walk through the tunnel, in the mud and water; the creek echoes inside. There are drainage holes lining the ceiling, one is clogged by a giant icicle. I imagine the train that used to ride over this tunnel, I pretend to hear it and feel the rumbling. Subscribe now and receive our weekly specials and discounts! Time limited special offer! Place an order right now and get VIP customer service for free!
Please input your first name. Please input a valid phone number. Please input a valid email. Submit a request and your personal manager will contact you within 10 minutes! Please enter a valid phone number. Please enter a valid email address. Please enter a valid email address or phone number. Thank you for your interest in our services! We will contact you within 10 minutes. Want to place an order via the phone?
Please leave your contact information and we will call you within 15 minutes. Subject of the call Please choose the reason of your request Order placement Payment and authorization Quality of my order General question.
Your order ID or. Your customer ID or. Please indicate your name. Any additional comments or requests? Cancel Call me back. Thank you for your request! We will contact you within 15 minutes.
Main Topics